DCL 2.0: modular and reusable specification of architectural constraints
Journal of the Brazilian Computer Society
2017
23:12
Received: 23 January 2017
Accepted: 26 July 2017
Published: 16 August 2017
Abstract
Background
Due to the abstract nature of software architecture concepts, ensuring the correct implementation of architectural decisions is not a trivial task. Divergences between the planned architecture and source code may occur in the early stages of the software development, which denotes a phenomenon known as software architecture erosion. Architectural conformance checking techniques have been proposed to tackle the problem of divergences between the planned architecture and source code. Among such techniques, we can note the DCL (dependency constraint language), which is a domain-specific language that has interesting results in architectural conformance contexts. However, the current version of DCL has some limitations, such as lack of modularity and low degree of reuse, which may prevent its adoption in real software development scenarios. In this article, we extend DCL with a reusable, modular, and hierarchical specification.
Method
We propose and evaluate DCL 2.0—an extension of the original DCL—and its tool in a real-world development scenario of a large system used by a government branch of Minas Gerais, Brazil.
Result
We were able to detect 771 architectural violations where 74% of them could only be detected due to the new violation types proposed in DCL 2.0.
Conclusion
By using DCL 2.0 herein presented, it was possible to conclude the following: (i) DCL 2.0 proved importance in helping the development team consistently address violations, and (ii) after using DCL 2.0 for months, the number of architectural violations being committed into the system branches was reduced to zero. Therefore, we argue that DCL 2.0 can have a positive impact on the architectural conformance of systems.
Keywords
Architecture conformanceHierarchical specificationArchitecture reuseStructural violation
Introduction
Software architecture is commonly considered a set of decisions and conventions that determine how to build a system, i.e., the architecture states the software's fundamental parts as well as the responsibilities and interaction of those parts. The concept of software architecture is well discussed for some time [1]. There are studies that associate important software aspects (e.g., cost, evolution, performance, security, maintainability, etc.) to correct architectural decisions [2, 3]. There is also evidence that good architectural decisions can have positive impacts on software maintenance and evolution [4]. Another evidence that highlights the importance of architectural decisions is how several development and maintenance processes started to consider architectural decisions for their projects by creating techniques, models, and specifications to capture the architecture [5]. Therefore, we can decrease fault risks in software projects if we assure that architectural decisions are followed.
Due to the abstract nature of software engineering concepts, it is not a trivial task to assure the correct implementation of architectural decisions. Some studies indicate that divergences between source code and the planned architecture can occur in the beginning stages of the development process [4, 6]. Other studies present scenarios where software source code, during its evolution, gradually loses its adherence to the architecture; this phenomenon is known as software architecture erosion [7–9]. In other words, after several maintenance and evolution tasks, architectural rules and decisions are ignored leading to architectural violations. Architectural violations are classified into two groups: (i) structural violations, which refer to inconsistencies related to component creation, i.e., violations occur when the component location, naming, or characterization diverge from the planned architecture; and (ii) relational violations, which refer to inconsistencies in the relations among components.
In object-oriented systems, the relations among components are accessing attributes, calling methods, inheriting types, and instantiating objects. Figure
1
shows two types of violations occurring in a hypothetical scenario. On the left side, we can see the planned architectural model. On the right side, we see a source code projection of such system.
Violation #1
is a structural violation because component
Baz
did not exist in the planned architecture's hierarchical structure.
Violation #2
is a relational violation because, in the planned architecture,
Foo
should not make method calls to
Bar
.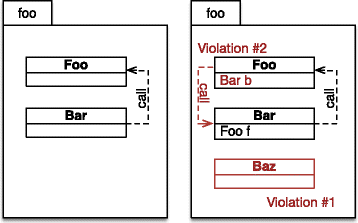 There are architectural conformance verification techniques proposed to tackle the problem of finding divergences between the source code and the planned architecture [
10
–
12
].
Dependency constraint language
(DCL) is a declarative language to verify the dependencies among modules in object-oriented systems [
12
]. DCL was designed to model architecture components as well as the constraints among such components. DCL has the following positive points: (i)
expressiveness
, DCL supports a wide variety of architectural constraints; (ii)
abstraction level
, DCL provides a limited support to associate specific source code parts (low level) with abstract elements (high level) by using a module definition; and (iii)
applicability
, once it is an easy to learn language. Although its many advantages, DCL also has some characteristics that may hinder its adoption in real software development scenarios, as follows:
Coupling: the DCL architectural specification is stored in a text file placed in the target project structure, which complicates reuse of the specification to other projects.

Monolithic: the architectural specification is created in a monolithic manner and hence difficult to maintain, especially in larger and modularized systems.

Non-hierarchical modeling: DCL does not support the creation of hierarchical relations among architectural elements. Since architectural models are inherently hierarchical, this limits capturing these models with better accuracy.

Structure constraints: even though DCL has a variety of constraints to control architectural violations, it still lacks some structure constraints to better specify the system's architecture.

Limited of conceptual traceability: DCL provides limited support to model relations among conceptual elements from a system and its source code. These conceptual elements are important to provide context for the architecture.
In this context, this paper proposes an extension of DCL, called DCL 2.0, which we implemented the following features and concepts to fill the gaps from the previous version and to increase reusability:
Hierarchical modeling: to allow a more faithful capture of the architectural logical models. It also facilitates the architectural visualization in different formats. Moreover, DCL 2.0 architecture models can be composed of any type of artifact found in a software development project, e.g., classes, projects, packages, documentations, etc.

New constraints and traceability: the new constraints provide more options to tackle structural violations. We also provide traceability among conceptual constraints and source code artifacts.

Decoupling: the modeled specification is completely decoupled from the target project, which promotes reuse and evolution of the architectural specification.

Modularization: the specifications are modular which favors reuse among components by using references.

Tool support: facilitates common activities to specify and to design the architecture, such as editing specifications, and validating and visualizing the architecture.
We evaluated DCL 2.0 by checking the architectural conformity of a large system from the Minas Gerais state government in Brazil. The results show that DCL 2.0 can precisely capture the system's architectural model. Moreover, the language inhibited the creation of new architectural violations by developers during the analyzed period. We detected 771 architectural violations on the analyzed system; 74% of those violations were only detected by the new constraints proposed in DCL 2.0. After the study, our architectural conformance tool was incorporated to the software development process of the company that maintains the evaluated system.
The three main contributions of this paper are summarized as follows: (i) the DCL 2.0 language, which was designed for a better usability and reuse than other architectural conformance techniques; (ii) our experimental process used for the evaluation, which monitors architects and developers on tasks related to handling architectural violations; (iii) the implemented tool with features to improve the user's usability and facilitate the adoption of DCL 2.0 in development teams.
This paper is an extended version of our first work on DCL 2.0 [13] where we highlight the following improvements: (i) new section comparing architectural conformance techniques and their main characteristics; (ii) new section detailing our implemented tool for DCL 2.0; (iii) a more complete and detailed evaluation section; and (iv) a more exhaustive related work.
The remainder of this paper is organized as follows. The "Background" section presents basic concepts to better understand our proposed solution. The "Proposed language: DCL 2.0" section presents DCL 2.0, the language's extension with modular specification, hierarchical relations, and better reusability. The "Tool support: DCL2Check" section shows DCL2Check, a tool that implements our proposed solution. In the " Evaluation" section, we evaluated the use of DCL 2.0 in a large system developed for the Minas Gerais government state. The "Related work" section presents the related work. Finally, the "Conclusion" section concludes the paper and outlines future work.
Background
In this section, we present all concepts required to fully understand our approach. The "Architectural conformance checking" section briefly describes the theory on architectural conformance checking. The "Conformance techniques comparison" section performs a general comparison on architectural conformance techniques. Finally, the "DCL" section presents DCL, the language we have extended in this paper.
Architectural conformance checking
Software architecture is usually the main artifact designed during software development for reasoning about software properties either functional or non-functional such as availability or modifiability. Design and architectural decisions have large influence on several implementation artifacts. When developers mistakenly violate these decisions, this leads to the software architecture erosion phenomenon. This gap between implementation and architecture causes the system to fail to satisfy some of the intended nonfunctional properties [14].
Architectural conformance checking is a process that investigates consistency between different artifacts in a wide scope. The main use is to ensure that the software is implemented according to the planned architecture, which is the foremost high-level artifact. Architectural compliance can be performed in several ways, such as from a high-level model to the source code, and between models at similar abstraction levels. It can also be classified as (i) static and (ii) dynamic. Static means that the source code is statically compared to the software's architecture view. On the other hand, dynamic means that the source code is analyzed at runtime. Architectural verification evaluates dependencies between components and are divided into:
Convergence: when a relation prescribed by the high-level model is followed by the source code.

Divergence: when a relation not prescribed by the high-level model exists in the source code.

Absence: when a relation prescribed by the high-level model does not exist in the source code.
After the dependencies have been checked, the next step is to fix the architectural violations found by the verification process. The correction must be consistent with the system architecture. On the other hand, this correction task is time-consuming, especially when the violations have been accumulated for a long time period. Therefore, the task of correcting architectural violations is important to prevent and to reverse architectural erosion [15].
There are several techniques that aim to support architectural conformance tasks; each one has its positive and negative aspects. In the "Conformance techniques comparison" section, we conduct a brief comparison of the main techniques.
Conformance techniques comparison
In this section, we present an overview of related architectural conformance techniques to summarize their main characteristics for an easy comparison. Table
1
presents the main techniques according to our study and seven characteristics (
modularity
,
abstraction
,
dependency
,
structure
,
reuse
,
visualization
, and
easy to learn
) each one supports. If the paper describing the technique explicitly stated, the characteristic we marked "
Yes
." If the paper does not describe a characteristic but in our analysis, we found some alternative feature that could be used in the same context, then we marked "
Partial
." Otherwise, we marked "
No
."
Table 1
Related techniques comparison
Technique

Characteristic

Modularity

Abstraction

Dependency

Structure

Reuse

Visualization

Easy to learn

DCL [12]

No

Partial

Yes

No

No

No

Yes

Reflection models [11]

Partial

Yes

Yes

No

No

Yes

Yes

Vespucci [8]

Yes

Yes

Yes

No

Partial

Partial

Partial

DSM [21]

No

Yes

Yes

No

No

Partial

Yes

SCQL [23]

Partial

No

Yes

Partial

No

No

Partial

Design tests [24]

Partial

No

Yes

Partial

Partial

No

Yes

FSML [25]

No

Yes

No

Partial

Yes

Yes

No

ArchLint [9]

No

Yes

Yes

No

No

No

No

OCL [27]

Partial

Yes

Yes

No

Partial

No

No

ADL [28]

Partial

Yes

Yes

No

No

No

Partial
Modularity analyzes if the technique supports modular architectural specifications or modeling. This is an important aspect because it allows the specification of independent and flexible models. Abstraction verifies if the technique provides different abstraction levels when specifying architectural components. Lack of abstraction features may over complicate the architectural specification of systems with a large amount of lower level components. Dependency checks whether the technique provides some way to specify dependencies between components. Most architectural conformance techniques rely on dependencies definitions because they are intuitive. Structure refers to whether the technique captures structural violations (i.e., inconsistencies related to component creation) or not. We claim (and we further empirically demonstrate) that techniques that capture structural violations are likely to uncover more violations. Reuse checks if there are features specifically designed to reuse architectural specifications for other systems. This decouples the architecture specification and decreases the effort in specifying architectures for other systems. Visualization can be used to assess if the technique provides a tool support to visualize the intended architecture. It can help users to better understand the system architecture. Easy to learn analyzes the learning curve required for understanding the technique and for specifying the intended architecture. Techniques that are easier to learn facilitate their adoption.
Dependency constraint language (DCL)
DCL [12] major advantage consists in how easy it is to learn the language and how easy it is to be used for architectural conformance check. DCL relies on simple concepts, which requires few keywords combined to create architectural restrictions. The language favors expressiveness, which allows to model several types of restrictions. There is another important point, DCL is non-intrusive and does not require any source code modification. DCL is a feasible solution to monitor and control dependencies on object-oriented systems. However, DCL is not a complete language for architectural specification. DCL main focus is on dependencies control that may not capture all architectural aspects, such as structural characteristics [16]. In DCL, the architectural definitions are monolithic and lack modularity, which can cause problems for the architectural specification [8]. For example, DCL does not support a way to specify components in a hierarchical manner, which is a common occurrence when modeling object-oriented systems [17, 18]. Finally, DCL does not explicitly show architectural convergences, which are an important factor to understand the system architecture [11].
Reflection model
Reflection model [11] is a popular technique for architectural conformance since there are many studies on this particular topic. A strong positive point on adopting reflection models is that their concepts are intuitive and easily adaptable to different scenarios [4, 19, 20]. On the other hand, this technique does not show explicit concern for reusability, and trying to reuse reflection models in different system with similar architectures is not a simple task. Therefore, this lack of reusability can be a barrier to adopt this technique for architectural conformance [19].
Vespucci
Vespucci [8] has many interesting features, such as modular architectural definition and components reuse. Vespucci also allows the modeling of different abstraction levels by using ensembles and slices. The tool support is a negative point for this technique, which has a sub-par documentation and it appears to be inactive. We also found very few studies to assess the applicability of this technique in real scenarios.
Dependency structure matrix (DSM)
DSM [21] is easy to employ on architectural conformance tasks due to its inherent simplicity. Architects require little effort to acquire a general overview of the system architecture, which also shows the dependencies between components [7, 22]. Unlike other techniques, DSM can create a dependency matrix without relying on mapping higher level components. On the other hand, this characteristic undermines the reuse to other systems, since there is not a formalization on higher level concepts. DSM also does not support explicit architectural specification, which also hinders reuse.
Source code query languages (SCQL)
There are source code query languages adapted to architectural conformance, for example the SCQL [23]. This technique is very flexible in searching for undesirable code pattern (i.e., architectural violations). SCQL similarity to SQL facilitates its adoption, although the features design for object-oriented adds a significant complexity to the language. The language is counter-intuitive to model architectural definitions since every aspect of SCQL is expressed by source code queries. Another problem is that SCQL does not support abstraction for higher level components; it only works at source code level.
Design tests
Design tests [24] employ the concept of unit testing applied to architectural compliance. Since it is based on unit testing, this technique is easy to learn for users who are familiar with testing frameworks. This technique does not facilitate architectural modeling, mainly because it is not intuitive to specify architectural details by using tests. Moreover, design tests do not have features explicitly designed for higher level abstraction.
Framework-specific model language (FSML)
FSML [25] goal is to model architecture focused on frameworks. The technique does not control structural dependencies or relations, and uses framework instantiation for architectural conformance. The instantiation feature favors reuse, since it is possible to instantiate architectural models as many times as necessary. On the other hand, the framework-based architectural conformance is not easy to learn.
ArchLint
ArchLint [9, 26] automatically extracts architectural rules from source code version history. Therefore, ArchLint is well suited when the system documentation is not well kept. This is a very strong point that favors the adoption of ArchLint. On the other hand, ArchLint requires a higher level architectural model to map the source code into architectural specifications, which may compromise its adoption by inexperienced users. Since ArchLint automatically extracts the architectural specification from the source code, it does not (and is not expected to) promote reuse or modularity for its specifications.
Object constraint language (OCL)
OCL [27] is an UML standard that allows the specification of constraints among objects. This technique has the advantage of being integrated with UML models, and it features object-oriented features such as inheritance, and abstraction. On the other hand, OCL lacks usability which makes it more difficult to learn and adopt. Since it is a standard, OCL does not offer any type of constraint visualization. Moreover, OCL reusability depends on whether you can reuse the UML models integrated with it, and as such this might not be a strong suit for this technique.
Architecture description language (ADL)
ADL [28, 29] is a broader term that defines a language that provides means to specify architectural and its constraints. We can see that OCL, DCL, and others can be considered ADLs, as they fall into its definition. However, for this category, we are analyzing a set of ADLs that were not previously discussed.
Armani [30] is an old ADL with similar characteristics and disadvantages that most ADLs share. More specifically, Armani supports different abstraction levels, the specification of dependencies, and limited modular specifications. However, it does not capture structure violations, it does not favor reuse, it has no support to visualize the architecture or the constraints, and it learnability was not a concern when the language was designed.
Alloy [29] defines an ADL that maps the architectural language definition into a model that can be more easily verified for architectural conformance. Unlike other ADLs, alloy does provide a limited support to capture some structural violations.
CLACS [28] uses the concepts of component-based software development to model the architectural specifications. CLACS was specifically designed to tackle the lack of reuse faced by most ADLs.
Critical assessment
Most techniques do not explicitly concern with architectural reusability. Moreover, few techniques partially support the capture of structural violations while the majority does not support it at all. We can also see little support for modular specifications. Therefore, most architectural conformance techniques lack on these three characteristics: reuse, structure, and modularity. On the other hand, for the positive points, most techniques explicitly specify and monitor dependencies between components. There is also a general concern to provide other abstraction levels when modeling architectures.
DCL
DCL is a declarative language aimed to verify dependencies among modules from object-oriented systems [12]. The language restricts the dependencies among modules by using a set of architectural rules. Basically, each rule has two elements and one relation between them, as follows: M A cannot-extend M B
Constraint M A cannot-extend M B indicates that classes from module M A cannot extend classes from module M B . All DCL constraints follow the same syntax. Indeed, this simple and intuitive syntax is one of the main advantages of DCL. Therefore, once the system architect knows the project's architectural characteristics, it becomes a relatively simple process to employ DCL to model architectural constraints.
We need to follow a few steps to use DCL for architectural specification. First, we define the modules, which are the high-level components in DCL. Then, we define the mapping of classes into modules, i.e., in this step, we specify the module that represents source code classes. Finally, we define the constraints between each pair of modules.
Once we have the DCL architectural specification, we can use tools to read such specification and verify the source code for architectural violations. Basically, the specification is created by modules and the constraints between a pair of modules. A module is a set of classes, as shown in Listing 1.

In the example, module Math (line 1) represents only one class (java.lang.Math). In line 2, module Exception represents two classes: java.lang.RuntimeException and java.io.IOException. In line 3, JavaUtil module that represents all classes from the java.util package. In line 4, module JavaSwing refers to every type defined in javax.swing package or sub-packages.
DCL classifies its violations into two groups:
divergences
and
absences
. A
divergence
violation occurs when an existing dependency in the source code violates the architectural model. DCL provides the definition of the following kinds of constraints between modules:
Only classes from module A can depend on types defined in module B

, where the possible dependencies are as follows:

only A can-access B: only classes declared in module A can access (calling methods, reading or writing to fields) non-private members of classes declared in module B.

only A can-declare B: only classes declared in module A can declare variables of types declared in module B.

only A can-handle B: only classes declared in module A can access and declare variables of types declared in module B. This is an abbreviation for only A can-access, can-declare B.

only A can-create B: only classes declared in module A can create objects of classes declared in module B.

only A can-extend B: only classes declared in module A can extend classes declared in module B.

only A can-implement B: only classes declared in module A can implement interfaces declared in module B.

only A can-derive B: only classes declared in module A can extend a class or implement an interface declared in module B. In other words, this is an abbreviation for only A can-extend, can-implement B.

only A can-throw B: only methods from classes declared in module A can return with exceptions declared in module B raised.

only A can-useannotation B: only classes declared in module A can use annotations declared in module B.

Classes declared in module A can depend only on types defined in module B, where the dependencies that can be prescribed are similar to those described for the only-can constraint (declare, handle, create, extend, implement, derive, throw, and useannotation). For example, A can-access-only B defines that classes declared in module A can access only non-private members of classes declared in module B.

Classes declared in module A cannot depend on types defined in module B. The dependencies that can be forbidden are similar to those described the only-can constraint. For example, A cannot-create B defines that no classes declared in module A can create objects of classes declared in module B.
On the other hand, an
absence
violation occurs when the source code does not follow a dependency that is prescribed by the architectural model. In order to capture absences, DCL supports the definition of the following constraints:
Classes declared in module A must depends on types defined in module B, where the dependencies that can be prescribed are similar to those described for divergence violations. For example, A must-derive B defines that all classes declared in module A must extend a class or implement an interface declared in module B.
DCLsuite is a plug-in to the Eclipse Integrated Development Environment (IDE). It implements DCL to perform architectural conformance verification. DCLsuite has an editor to create and edit specifications, which are stored in a file with the .dcl extension. The .dcl file must be placed in the root directory of the target project. In fact, DCLsuite reads this file to analyze the source code searching for architectural violations, i.e., it automatically checks the source code. The violations found by DCLsuite are presented as errors in the Eclipse Problems tab interface.
DCL also has an extension, called DCLfix, that provides recommendations for developers to solve problems related to architectural erosion [15, 31]. Moreover, DCLfix suggests refactoring recommendations to the violations that were detected during the architectural verification done by DCL. Another DCL-based tool, called ArchRuby, was proposed to verify the architectural conformance of dynamically typed languages [32].
In the remainder of this paper, we refer to the original DCL language as DCL 1.0 to avoid being mistaken with our proposed extension.
Proposed language: DCL 2.0
In this paper, we propose DCL 2.0, an extension on DCL 1.0 by introducing modular, reusable, and hierarchical specification models. The objective is to improve the original DCL language with the detection of new types of architectural violations. We also improved several other language aspects such as the architectural specification, documentation, and visualization. Moreover, our motivation to propose an evolution for DCL 1.0 is to enhance it with important features to be more effective in real software development scenarios. Table
2
highlights the main features reworked by our proposed language—DCL 2.0—and their situation in the original DCL 1.0.
Table 2
DCL 1.0 and DCL 2.0 comparison
| | Feature | DCL 1.0 | DCL 2.0 |
| --- | --- | --- | --- |
| F1 | Specification | Monolithic and flat. | Converted to a modular and hierarchical specification. |
| F2 | Verification | Limited to only Java artifacts. Verifications are also limited to dependencies constraints. | First, we allow non-Java related artifacts. Second, we added new constraints to improve the detection of architectural violations. |
| F3 | Reusability | Limited. | The language is integrated to a management tool, which decouples the specification from the target system and promotes reuse. |
| F4 | Architectural visualization | Non-existent. | A tool and an API that shows the system architecture. The API also provides several visualization layouts to show the architecture in different ways. |
| F5 | Architectural coverage | No support. | Provides visualization on the portion of source code that is being covered by the specification. |
Hierarchical and modular specification
Software development usually uses artifacts composed of components from a higher abstraction level to represent the system's architecture. This situation is more common in the beginning stages of the development, where the architectural requirements are still unclear. As the development progresses, the architecture is further detailed and its higher level components are decomposed into smaller ones (e.g., sub-modules, packages, directories, classes, and files). We can observe a hierarchical pattern when we detail such smaller components. Architectural models reflect the system's internal structure and they can be used to communicate the software architecture [7, 8]. A few other approaches provide hierarchical specification arguing that a hierarchical model is easier to work considering components from different abstraction levels [7, 8].
Our proposed language, DCL 2.0, supports hierarchical and modular specification. By contrast, DCL 1.0 only supports a monolithic and flat specification where each module or component is defined independently from each other.
Figure
3
represents the logical (a) and physical (b) structure for a hypothetical system. Listing 2 shows the specification using DCL 2.0 for the same fictitious system. We can see the following three models have a hierarchical nature: (i) the logical model (Fig.
3
a
), (ii) the physical model (Fig.
3
b
), and the DCL 2.0 specification (Listing 2). On the other hand, DCL 1.0 would define every component isolated from each other, and without any indication that a component could include or be a part of other components.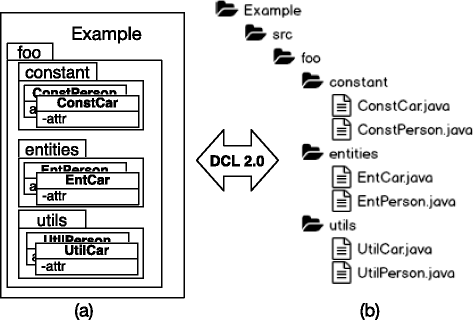 In Listing 2, we defined the component foo (line 2) for the example architecture. DCL 2.0 allows hierarchical specification of modules; in this case, foo contains other three components: entities (line 3), constants (line 10), and utils (line 17). Each component can map and group lower level artifacts (source code and other files) into a higher abstraction definition. For instance, inside the component entities, we map file names that begin with "Ent" to the newly defined Entity abstraction (line 4), and all architectural constraints this component follows (lines 5 to 7). We can also see that Fig. 3 shows an example of this representation where EntCar.java and EntPerson.java are classified as entities.
A software modularity is defined as a way to implement more flexible and comprehensible systems, which impacts directly on its maintenance tasks [33]. In software architecture, modularity is also very important. We can observe this importance in the architectural model 4+1, where views like logical view and implementation view capture modularity aspects [5]. Although the benefits of modularization are clear, for architectural conformance and specification, there is little discussion on this front. As we explain in related work (the "Related work" section), most architectural specifications are monolithic in nature.
DCL 2.0 implements a modular specification by using a cross-reference mechanism, where an element defined in a specification file can be referenced by another file. As already illustrated in Listing 2, we can see component plataform.java.lang (lines 6, 13, and 20) were not defined in the current file, they are references. One of the main advantages for this modularity specification in DCL 2.0 is the reuse of architectural components, i.e., frameworks, APIs, and libraries can have its components specified only once and reused by other projects.
DCL 2.0 also requires a more formal specification than other languages. For example, we can observe the ignore keyword, which informs that component doc should not be considered as an architectural artifact (Listing 2, line 26). More specifically, ignored artifacts are not verified or visualized by the tools using DCL 2.0 specification. Particularly for Listing 2, if the ignore keyword did not specify the doc component, a violation would be generated.
Non-java artifacts
One of the new improvements of DCL 2.0 over DCL 1.0 is the possibility to work with non-java related artifacts. This is important because a software project may contain different artifacts, such as documentations, style sheets, web pages, and configuration files.
For example, Listing 3 shows the view component specification using DCL 2.0. First, we define the view component (line 1), which is composed by a directory or folder with the name "view" (line 2). Inside the view component we create a module that contain any folder (lines 3 and 4). We can see that the page component (lines 5–7) is composed by artifacts with xml, zul, or html extensions (line 6).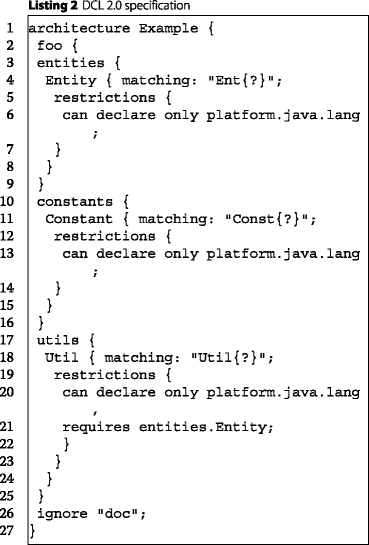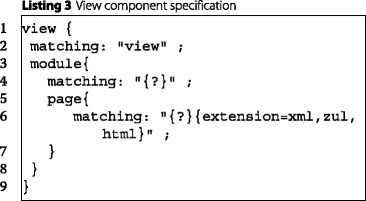 New violation types
The hierarchical features introduced in DCL 2.0 provided a way to verify new types of architectural violations. We classified these new types as structural violations, which occurs when a code element diverges from the hierarchical component specification. We detail the new structural violations types as follows.
Architectural reusability
A major change introduced by DCL 2.0 is how the architectural specification and source code artifacts are related. In DCL 1.0, the specification is integrated to the system. In DCL 2.0, the specification is decoupled from target system. This difference makes the DCL 2.0 possible to reuse any architectural specifications in DCL 2.0. Moreover, this new feature is better to handle the architectural evolution because it allows the specifications to be managed and distributed by software configuration tools in a similar way as it is done with source code.
Architectural coverage
Another important new feature of DCL 2.0 is a simple metric to indicate how much of source code was analyzed. Due to the hierarchical specification, all source elements must be verified by the language, except for the elements declared with the ignore keyword. In general terms, the less elements are ignored, the greater is the architectural coverage. For example, if we consider a system with 100 artifacts (classes, XML, JavaScript, documentation, etc.) with only 70 of those are considered architectural components, then for this case the architectural coverage is 70%. By default, binary files are excluded for the architectural coverage calculation.
Architectural visualization
Understanding the architectural specification of a system is important to avoid the proliferation of violations [
11
]. Therefore, visualizing the planned architecture can aid system architects to better understand it, which can contribute indirectly to the system architectural conformance. DCL 2.0 hierarchical model allows for three different types of architectural visualizations: (i) textual shape, (ii) component tree, and (iii) code artifacts and their respective architectural component. A fragment of the third visualization can be see in Fig.
8
.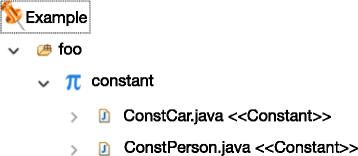 Another noteworthy point is that the visualizations reflect the modeled architecture, which is not just a standard package overview as provided by most IDEs. For example, suppose an architecture component in DCL 2.0 called webpages that is composed of every html file. However, html files for this system are spread across multiple folders or packages. Moreover, while our tool would show every html artifact as belonging the webpages architecture component, an IDE package view would not. As such, the user in an IDE would be required to search for those artifacts following the package structure which does not reflect the architecture component.
Tool support: DCL2Check
We developed a tool, called DCL2Check (available at github.com/aserg-ufmg/dcl2check), that uses DCL 2.0 to verify the applicability of our proposed solution and to aid our evaluation. The tool is implemented as a plug-in for Eclipse IDE. It provides essential functionalities, such as architectural conformance verification and high-level architectural visualization.
The "Overview" section presents an overview of the tool and its main components. The "Architecture" section describes the tool's architecture. Last, the "Features" section highlights DCL 2.0's main features.
Overview
We used the Eclipse platform and Xtext as the main components to implement our tool. Eclipse is a popular open-source IDE (Integrated Development Environment). Xtext is a framework for development of programming languages and domain-specific languages. With Xtext you define your language using a formal grammar specification. As a result, Xtext provides the elements required for domain specific language processing, including parser, linker, type checker, and compiler as well as editing support for Eclipse, IntelliJ IDEA, and for any web browser.
DCL2Check is publicly available as a plug-in for Eclipse. We created a specific DCL 2.0 project in the Eclipse platform to use the tool. This project is needed to store the architectural specification using the DCL 2.0 language. Once created, the specification project should be exported in JAR (Java ARchive) format. The system we want to perform architectural conformance adds the DCL 2.0 specification JAR file to its project dependencies. The tool identifies the architectural specification among the project system dependencies and employs it to perform the architectural compliance task. It is important to highlight, that even though the specification is exported as a JAR file, it can be used for software projects written in any programming language and not just Java. Since our tool is integrated with Eclipse, it can work with any language supported by the Eclipse platform.
We also integrated the tool with the Maven framework to support the distribution of architectural specifications in remote repositories. Another feature introduced by Maven is that it can access the remote repositories to automatically update the architectural specification for each developer machine. As we can see it is easy to reuse specifications to other systems, since they are decoupled from the software project.
Architecture
Figure
9
presents
DCL2Check
conceptual model showing its main entities (
Component
,
ComponentInstance
,
Reference
,
Restriction
).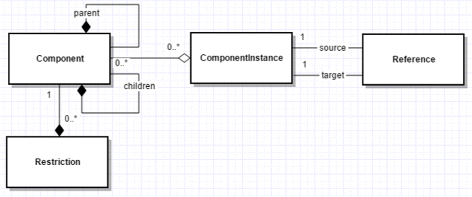 Component: it is the main model entity for DCL 2.0. We use Component to represent conceptual elements from the system. This entity possesses two self-relations (parent and children), to allow a hierarchical specification and navigation through the architectural components.

ComponentInstance: entity that represents source code portion related to a specific component.

Reference: entity that represents a relation between two component instances (i.e., model a dependency between a source component instance and a target one).

Restriction: entity that represents rules, restrictions, or constraints applied to a specific component.
Features
In this section, we present the following main features implemented by our tool: specification editor (the "Specification editor" section), architectural verification (the "Architectural verification" section), and visualization (the "Visualization" section).
Specification editor
The tool has built in editor specifically designed to handle architectural specifications in DCL 2.0. The editor offers syntax highlight, cross-reference, and autocomplete to aid in the writing of specifications. Moreover, the editor also validates the specification automatically, showing syntax errors just in time. These functionalities attached to the editor are important to improve the usability and ease the learning curve to new users.
Architectural verification
For the architectural conformance task, our tool offers explicitly designed features to handle it. The user can enable the architectural verification for each Eclipse project in the configuration menu. Once enabled, the verification task can be executed in the following ways: (i) live feedback, which the verification occurs every time an artifact is modified; (ii) build feedback, which the verification is processed when the project is compiled; and (iii) off-line feedback, which the architectural verification is only performed by demand, i.e., only when the user explicitly invokes the tool command (in the Eclipse IDE) to perform the architectural compliance check.
Figure
10
shows a violation in the
EntPerson
class. The tool marks the source code line on the artifact that caused the violation. A textual message is also showed to explain the violation found by our tool. The message is to facilitate the users' understanding. We think it is noteworthy to point out that these messages can be customized and defined using DCL 2.0.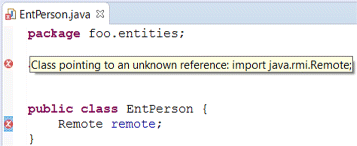 Visualization
As we showed in the architectural conformance techniques comparison (the "Architectural conformance checking" section), not every technique provides a visualization feature. We claim visualization is important to aid the development team in better understanding the designed architecture. Therefore, we implement in our tool three types of visualizations: (i) textual shape, (ii) component tree, and (iii) code artifacts and their respective architectural component.
The visualization types provided by DCL2Check are independent from the architecture specification, which allows new tools or extensions to provide more visualization options for DCL 2.0 in the future. Moreover, our tool visualizations reflect the modeled architecture that is different than the common package overview provided by IDEs.
The tool also uses Eclipse's View Console and Problems to show details on the architectural violations. We also show the Architectural Coverage for each project under the project's properties.
Evaluation
In this section, we report a case study where we applied an architectural conformance check using DCL 2.0 to a large system. The system is maintained by PRODEMGE, which is a government information technology company from the state of Minas Gerais, Brazil.
Related work
We found several approaches and techniques proposed to address or solve architectural erosion in systems. We divided the related work into two main categories: (i) architectural conformance; and (ii) empirical studies.
Architectural conformance
Reflexion models compare two models, low abstraction level model (i.e., source code) and a higher abstract level model (i.e., conceptual and architectural elements) of the system [11]. The models require a mapping task between the two models to compare them. When we compare both models, the reflexion model is created in which three types of relations between the models are revealed: convergence, divergence, and absence. The main disadvantage of reflexion models is the lack of reusability [19]. By contrast, when we designed DCL 2.0, reuse was one of the main concerns for the language.
Another study implements a modular and hierarchical specification based on slices called Vespucci [8]. A slice is a portion or block of the specified architecture, and it also helps to control the dependencies among other blocks. Slices are composed of smaller conceptual blocks called ensembles. The authors argue that this approach allows the formalization of architectures in different abstraction levels, which facilitates architectural maintenance and evolution because the specification is modular and hierarchical. Their technique combines box-and-line diagrams to define the architectural structure and a textual language to map the source code into the architecture. Their technique also controls relational violations between components, although it does not handle or support structural violations. On the other hand, DCL 2.0 offers dependency control among modules and also provides ways to model structural relations.
Dependency structure matrix (DSM) was introduced to explain the importance of modular projects in the hardware industry [22]. Another research shows that DSM can also be applied in the software industry [21]. DSM is based on a square matrix, which the intersections among lines and columns denotes a relation between components (classes) in an object-oriented system [7, 22]. An interesting aspect of this technique is the possibility to visualize in matrix how much a component is associated with another one. DSM also supports the grouping of components into modules, which facilitates analysis among component relations. The grouping strategy also allows architects to work with DSM in a hierarchical manner, which they could use to analyze the architecture in different abstraction levels. DSM can also be used in conjunction with architectural rules. However, DSM does not support a formal architectural specification, which hinders the reuse. On the other hand, DCL 2.0 tries to promote reuse, not only by allowing an easier specification of the formal architecture, but also by providing modular and hierarchical specifications that can be used in other systems.
The.QL language, which was based on SQL, aims to locate specific source code elements [23]. This language can be used for architectural conformance to generate queries to detect coding patterns that do not follow the planned architecture. This technique works only at source code, which is a low level abstraction and that may make difficult to understand the architecture. DCL 2.0 provides more ways to model different abstraction levels to improve the understanding and evolution of the architecture.
Design test is a technique to verify the architectural conformance by using automated tests similar to the ones done by unit testing [24]. This technique also suffers from a low abstraction level, which hinders the architectural understanding. As we previously discussed, DCL 2.0 does not suffer from this disadvantage because it provides architectural specification on different abstraction levels.
Framework-specific model language (FSML) contrasts with other approaches because it does not control dependencies. Instead, FSML relies on strict framework instantiation model to assure the architectural conformance. Each FSML contains rules and information required to correctly use a framework. The approach maps every framework extension point and its instantiation rules to verify the architecture on framework-based systems [25, 37]. Unlike DCL 2.0, this technique does not address violations among component relations.
ArchLint is an approach to verify the architectural conformance that does not require a manual specification of the architectural rules [9, 26]. The technique requires a system versions history and a high-level document modeling the system. ArchLint combines static code analysis, change history analysis, and a set of heuristics to classify architectural dependencies (or the lack of dependencies). This approach contrasts with DCL 2.0 because the architectural restrictions on ArchLint are not specified, i.e., ArchLint automatically extracts those rules from the system. On the other hand, ArchLint does not handle structural violations in contrast to DCL 2.0.
OCL [27] is a UML standard to model object-oriented architectural constraints. OCL allows the representation of functional and non-functional requirements on objects and expressions on a UML model. One of the problems faced by OCL is its difficulty to reuse constraints [28]. Another problem is the lack of usability [38]. Bajwa et al. [38] try to improve the OCL usability by writing the specifications in natural language and then converting it to OCL. They built a tool, called OCL-Builder, to perform the conversion from Natural Language to OCL constraints. DCL 2.0 was designed to be easier to adopt and use, unlike OCL which does not favor them. When we compare DCL 2.0 with Bajwa et al. [38] extension, their new natural language constraints are better than OCL but it still lacks usability and requires users to learn a new definition language. DCL 2.0 was also built to favor reuse which OCL, and its variations do not take into account.
Armani [30] is a language to model software architecture designs. The author presents the full scope of Armani in his work. However, the author does not perform any form of evaluation. Even the examples provided in the report are small and lack usability of a real development scenario. For DCL 2.0, we presented the language but we also evaluated our approach in a real software development scenario.
Alloy [29] is another architectural language that its architectural specification into another model to perform an automatic conformance check. The authors use concepts from UML 2.0 and the Acme ADL to specify the architecture. Alloy reads this specification and generates another document with its model for automatic verification. Although, the author provide some examples of use, they did not evaluate their approach. Another problem faced Alloy and discussed by authors was the performance. The authors acknowledged that a large model may take some time, but they did not specify what that time would be. On the other hand, for our paper we showed an evaluation in a real scenario and we collected and presented the performance information for such tests.
CLACS [28] is an architectural language specifically designed to be more easy to reuse its specifications and constraints for other projects. The authors hypothesized that component-based concepts can be used to make the architectural specifications more resusable. The authors also empirically evaluate their approach focusing more on the reusability aspect. CLACS and DCL 2.0 are similar as both have reuse as a major concern for their design, and both were empirically evaluated. However, DCL 2.0 also shows concerns for other aspects neglected by CLACS (e.g., structural constraints, visualization, etc.). Another difference is that DCL 2.0 was evaluted in a real sofware development scenario, while CLACS collected its data from other sources.
Empirical studies
Rosik et al. [4] evaluated a real software development for commercial purposes where reflexion models were employed to detect architectural violations. The authors concluded in their evaluation that violations are not removed from the source code even if they are detected. The authors reported that the evaluated development team did not felt safe to remove the detected violations. This contrasts with our case study, where architects and developers were encouraged to remove as many violations as possible. As a result, for our case study most detected violations were removed.
Brunet et al. [39] analyzed the Eclipse platform evolution over five years to understand the violations during the development. The authors investigate the architectural rules, the characteristics of the violations, and the developers addressing the violations. They concluded that most restrictions are related to classes (or interfaces) extension control, which contrasts with the majority of the research on architectural conformance that are based on dependencies between components. For our paper, we focus more on the design of DCL 2.0 and the case study. Although we investigate the possible causes for architecture violations, this is not the main focus of this research.
Knodel et al. [6] introduced the concept of constructive conformance verification in reflexion models, i.e., instant feedback is given to developers related to architectural violations. The results indicated the developers inserted 60% less architectural violations when utilizing the approach. DCL 2.0 also offers a just-in-time architectural verification for instant feedback, although we also provide incremental on demand verification for performance issues. When compared to our case study, the project builder could not accept code artifacts with architectural violations. Therefore, developers in our case study stopped inserting architecture violations in new system version.
In another similar work, Knodel et al. [20] argued that prototype tools are not appropriate to evaluate real scenarios. The authors also highlight the necessity to test new approaches in real scenarios before making them available to software companies. We agree with the authors perspective and DCL 2.0 and its tool were applied to a real development scenario in our case study.
In another work, Knodel and Popescu [19] compared reflexion models and two other techniques (relation conformance rules, and component access rules) to assess their applicability on architectural conformance. The authors present 13 different criteria to evaluate each technique and discuss their characteristics. In our paper, we also did our own comparison according to seven characteristics on eight different techniques for architectural conformance.
Wettel et al. [40] proposed a technique to visualize software artifacts in a three dimension environment, called Code City. They also empirically evaluate their technique with 41 participants. The evaluation tries to capture relevant tasks that would occur in real development scenarios. JSCity [41] is a variant implementation of Code City but specialized for JavaScript programs. Code City and its different implementations focus more on the software artifacts (packages, classes, etc.). Our tool the dcl2check does not offer a 3D view, but it can show the artifacts as well as the higher level architectural components related to those artifacts. Moreover, Code City is a tool only for visualization purposes while DCL 2.0 and its tool can be used for architecture conformance as well.
Lutellier et al. [42] compared six techniques used to extract architecture from systems. In the evaluation, the authors employed nine variants of those six techniques to extract the architecture for five systems. This contrasts with our work because DCL 2.0 was designed for architecture modeling and conformance, and it does not extract a system's architecture automatically.
Merson [43] used a static analysis tool to perform architecture conformance checks. The author applies his approach in a real software development scenario with more than 50 Java EE applications. The size of the development team is large, being composed of 57 employees and 24 interns working over the course of two years. Even though, Merson applied his approach in a real scenario, his evaluation does not analyze further the impact of the architecture conformance (e.g., it is not shown or discussed exactly how many violations his approach managed to capture or prevent). For DCL 2.0, our evaluation scenario is smaller when compared to Merson. However, our analysis of the architecture conformance is presented in more detail.
Terra and Valente [12] applied DCL and the DCLSuite tool as a case study to evaluate architectural conformance on a real system. The main motivation was to verify whether architectural violations occurs when inappropriate dependencies between modules are implemented in the source code. For the experiment, the authors employ the DCLSuite tool on three versions of the target system. They monitored the software and architectural evolution for two earlier versions and they evaluated the third version for their analysis. The results show that DCL identified 179 classes (8% of all the classes for the system) with at least one architectural violation. Finally, the authors discuss DCL positive points as: (i) expressiveness, since DCL supports many architectural restrictions types to cover a wide spectrum of violations; (ii) abstraction level, because DCL offers a module definition to associate lower level elements (source code) to a higher abstraction element (module); and (iii) applicability, as the authors highlight the non-intrusive nature of the DCLSuite tool and how easy it is to learn and use DCL. As we discussed throughout the paper, DCL 1.0 has disadvantages which DCL 2.0 aims to fix. We also presented a case study for a real software development scenario.
Conclusion
Architectural conformance is an important task to detect and reverse architectural erosion. Although there are several techniques to tackle this task, all of them show some negative points, specially regarding the reuse of architectural definitions and the capability to discover structural violations. For this reason, we developed DCL 2.0, which extends the original DCL language by giving support to modular and hierarchical architectural specifications, the detection of structural violations, and the promotion of better reuse. We also describe a DCL 2.0 tool implementation, called DCL2Check, which facilitates its adoption.
We evaluated DCL 2.0 on a large system to verify its applicability on a real software development scenario. We observed the following results regarding architectural erosion phenomenon during our evaluation experiment:
Structural violations compromised 91% of all the violations found in the system. Moreover, structural violations can hide or mask other types of violations, since they make it difficult to correctly identify the components. Considering all violations together (even those masked by others), 74% were only detected by the new features introduced in DCL 2.0.

Architectural violations occur more frequently in evolution maintenance than corrective maintenance. We can also see a correlation between a set of changes implemented by a developer and the number of architectural violations. However, we could not find a direct correlation between violations and commits.

Experienced developers introduce more complex architectural violations than other developers. The reason is because experienced developers handle more complex coding tasks, which are more likely to introduce violations. Moreover, many complex violations are not removed from the system.

One of the initial steps to validate the architecture is to identify its components. The risk of introducing architectural violations lessens for well-known components. On the other hand, unknown components and references represent a silent problem that could hide serious violations.
Besides the good results in detecting existing violations, DCL 2.0 also proved important in helping the development team to address violations. After ten months since the installation of DCL 2.0, the number of architectural violations being committed into the system branches was reduced to zero. Based on the presented results, we concluded that DCL 2.0 can have a positive impact on the architectural conformance of systems.
We have the following ideas for future work: (i) new visualization types; (ii) architectural specification that supports fine grained elements (such as methods or attributes); (iii) architectural rules definition based on metrics, e.g., a component must have low coupling; (iv) a catalog of architectural references; and (v) another experiment comparing DCL 2.0 against other techniques w.r.t. learning curve effect and applicability difficulty, for example.
Abbreviations
ADL:

Architecture description language
DCL:

Dependency constraint language
DSM:

Dependency structure matrix
FSML:

Framework-specific model language
OCL:

Object constaint language
SCQL:

Source code query language
Declarations
Acknowledgements
Our research has been supported by CAPES, FAPEMIG, and CNPq.
Funding
Funding information is not applicable for this paper.
Availability of data and materials
The dataset supporting the conclusions of this article belong to a government branch with sensitive information, we cannot publicly share this data. We ask that researchers contacts us directly for the data.
Authors' contributions
HR and RSD wrote this manuscript. HR, RSD, and SB extended the original work with new content for this manuscript. RT and MTV revised the manuscript. All authors read and approved the final manuscript.
Competing interests
The authors declare that they have no competing interests.
Publisher's Note
Springer Nature remains neutral with regard to jurisdictional claims in published maps and institutional affiliations.
Open Access This article is distributed under the terms of the Creative Commons Attribution 4.0 International License(http://creativecommons.org/licenses/by/4.0/), which permits unrestricted use, distribution, and reproduction in any medium, provided you give appropriate credit to the original author(s) and the source, provide a link to the Creative Commons license, and indicate if changes were made.
Authors' Affiliations
(1)
Department of Computer Science, Federal University of Minas Gerais, Belo Horizonte, Brazil
(2)
Department of Computer Science, Federal University of Lavras, Lavras, Brazil